Azerbaijanare new leaders of the pool
20 april 2010 18:39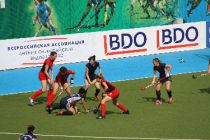 For the moment Azerbaijan are the new leaders of the table. If they stay at the top we will know after the result of the match Japan v Italy. In today's first match Azerbaijan beat Wales 1-0 by converting one of ten penalty corners.
Azerbaijan v Wales 1-0 (0-0)
Azerbaijan needed to win this encounter to keep good chances for a spot in Sunday's final. The first half was a very quite one. The game took mostly place in midfield with not many opportunities on both sides. Azerbaijan had two penalty corners which were saved by the Welsh defence without any problems. The defensive playing Welsh team entered the opponent's circle twice but without having serious chances.
At the beginning of the second half Azerbaijan won their third penalty corner which did not succeed. Khatira Aliyeva took the shot which was saved by Welsh goalie Margaret Rees. Afterwards Rees managed to clear the rebound as well. Azerbaijan's fourth penalty corner was successful then and brought the lead. Instead of shooting directly they passed to Marina ALIYEVA (48') who waited at the right post and tipped the ball in. 20 minutes before the final whistle Azerbaijan got three penalty corners in row but missed to increase the lead.
To sum up today's first encounter Azerbaijan got dangerous with ten penalty corners while Wales struggled to enter the circle although they pressed the last ten minutes. In minute 63 the first penalty corner was awarded to Wales. Tina Evans took the shot but Viktoriya Shahbazova was able to clear to a long corner.

printer friendly version
Viewed: 2067