Japan qualify for BDO Women's World Cup in Argentina
25 april 2010 21:15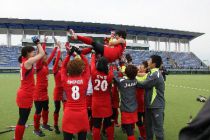 Japan beat Azerbaijan 1-0 in the final of BDO Women's World Cup Qualifier in Kazan due to a last minute goal. Russia took the Bronze after a Golden Goal victory over Belarus. Italy finish 5th.
Final
Japan v Azerbaijan 1-0 (0-0)
Both teams were very nervous at the beginning. Japan gradually gained control of the game but Azerbaijan had some dangerous counter-attacks through their defenders who were flicking the ball towards their strikers awaiting the ball in midfield. In the first half nobody had a great opportunity to score because both teams defended well. Marina Aliyeva turned up once in the Japanese circle but missed the ball. Japan gained one penalty corner which failed. Before halftime Japan attacked well but Mazuki Arai's pass did not reach a team-mate.

Japan created two opportunities at the beginning of the second half. A penalty corner shot from Ai Murakami was saved by Azerbaijan goalie Viktoriya Shahbazova and soon after Kaori Chiba was close to scoring but missed the goal. Natsumi Tameto kept the Azerbaijan defenders busy by her dangerous moves in the circle. Meanwhile two short corners of Azerbaijan failed. In the 68th minute Kaori Chiba scored the game winning goal for Japan. She received a pass in the circle and smashed the ball into the goal with a backhand stroke.
Congratulations to Japan!

printer friendly version
Viewed: 2158