It is very hard to make an agreement with Africans, Berti Vogts
22 march 2010 16:22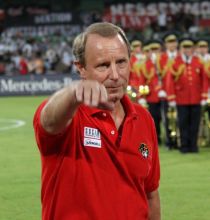 Azerbaijani national team manager Berti Vogts admitted that he spend Novruz Bayram in one of the Azerbaijani houses. "AFFA general secretary Elkhan Mammadov invited me. I really liked pakhlava and shakarbura but I must say that there is a lot of other tasty meals in Azerbaijani patisserie" – he said.
As for football itself, Vogts said that there can be some new names in a training camp in Austria. "You saw some newcomers in our previous camps, maybe I will bring on some new names again, who knows" – he said to azerisport.com.
"It is very hard to get an agreement with Cameroon to play against them. It is always the same against Africans" – Vogts added.

printer friendly version
Viewed: 2691