Vogts was planning to watch my game against CSKA, Shukurov reveals
23 march 2010 11:51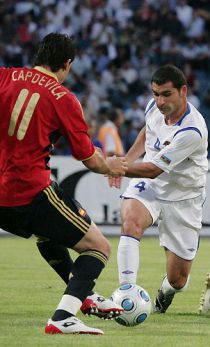 Azerbaijani national team defender Mahir Shukurov admitted that Berti Vogts was on the edge to come to Makhachkala for the match between local Anzhi and CSKA Moscow on Matchday 2 of Russian Premier League.
"It is a very big pity that I was sent off in a match against Amkar. Now I should miss an encounter against CSKA. I know that Berti Vogts was planning to come to Makhachkala to watch my game versus CSKA, but now his visit is cancelled" – he said.
But Shukurov thinks he didn't deserved two yellow cards that he received in one minute. "I think it was the way that referee wanted to congratulate me with Novruz. But I didn't like it. I was thinking that football in Russia is much tougher that in Azerbaijan and it seems I was wrong" – he says.
Mahir Shukurov was sent-off because of two cautions he received in one minute in a match against Amkar. He is going to miss next match of Anzhi against CSKA Moscow. Russian NTV Plus Channel declared Shukurov as an antihero of the Matchday 2.

printer friendly version
Viewed: 2244