Final Four Draw To Take Place Today
27 march 2010 13:12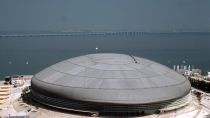 Hosts SL Benfica, holders Interviú Madrid, Italy's Luparense C5 and Azerbaijan's Araz Naxçivan will be in Saturday's draw made by Eusébio during the Benfica v SC Braga football Liga fixture, azerisport.com reports.
The UEFA Futsal Cup semi-final draw will be made by Eusébio on Saturday 27 March at the Estádio do Sport Lisboa e Benfica. It will take place at half-time of SL Benfica's football Liga game against SC Braga, which kicks off at 20.15 local time (21.15CET).
Lisbon will be staging the finals at the Pavilhão Atlântico, with hosts Benfica up against holders Interviú Madrid, Italy's Luparense C5 and Azerbaijan's Araz Naxçivan. The draw will pair sides for the 23 April semi-finals, prior to the final and third-place play-off two days later.
Three-time European champions Interviú are the only competing club to have previously played in a four-team finals since the system was introduced in 2006/07. They have had some mixed results of late but had a huge boost last Saturday when they beat arch-rivals ElPozo Murcia FS 1-0 to close the gap at the top in Spain to five points, six games out from the eight-team championship play-offs. Benfica also won 1-0 on Saturday, beating Aautad/Real Fut to stay third in Portugal, within one point of Sporting Clube de Portugal and six of CF Os Belenenses.
Luparense are also third in Serie A1, slipping five points adrift last week when they lost 4-2 at Pescara C5 and leaders Marca Futsal drew 0-0 with second-placed Città di Montesilvano C5. However, Araz are leading the way in Azerbaijan, six points in front of PFC Neftchi.

printer friendly version
Viewed: 2080