Vogts Opponent to Quit For $1,3 millions?
27 march 2010 12:26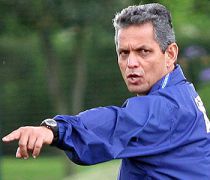 Honduras coach Reinaldo Rueda hinted on Friday he may quit if he and his World Cup-bound team are not paid a $1.3 million bonus promised by the country's football federation for reaching the World Cup, azerisport.com reports.
Rafael Leonardo Callejas, president of the Honduran federation, has acknowledged the players and staff are owed the money and says he's hoping to make the payment within a week. He has not explained why the payment is late.
Honduras has three friendly matches in May and June in Europe before traveling to South Africa to play in Group H with Spain, Chile and Switzerland.
"The players want to be relaxed going into May and I want to go to Europe with a group concentrated on the job before them," Rueda, a Colombian, said.
"I hope this happens and it does not influence my decision to stay with the national team."
Team captain Amado Guevara added: "We are working hard and we want the authorities to change their attitude ... even though we don't know why they have not paid us."
Forward Carlos Pavon suggested the world governing body of football FIFA had made a recent payment of about $1 million to the Honduran federation.
"We're not happy," Pavon said.
Honduras will have a training camp beginning about May 15 in Europe and will play friendly matches against Azerbaijan, Belarus and Romania before traveling to South Africa. Honduras was the third qualifier from North and Central American and the Caribbean behind the United States and Mexico.
This is the second World Cup for the small Central American country. In 1982 Honduras failed to win any of its three games.
Source: Taiwan News

printer friendly version
Viewed: 2101