Joachim Low: Turkey will have fans advantage in Baku
30 march 2010 16:04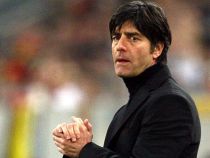 The head coach of German football team – Joachim Low visited the game Galatasaray – Fenerbahce by Turkish press invitation and commented qualifying group of Euro-2012, azerisport.com reports.
"There are two favorites in group – Germany and Turkey, - he said. – But my personal opinion that we need to pay attention on Belgium. This team has perspective young footballers and I think they will make a surprise in group. But Germany and Turkey will share out first and second places anyway. Turkey will have fans advantage in all matches. Don't forget about it."
Azerbaijani team is the one of the opponents of Germany and Turkey in qualifying tournament of Euro-2012.

printer friendly version
Viewed: 2113