Amado shows respect to 'motivated' Araz
7 april 2010 20:26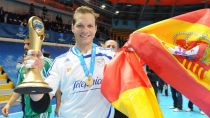 Interviú Madrid goalkeeper Luis Amado says the holders "won't take anything for granted" against semi-final opponents Araz Naxçivan as UEFA.com collects the reaction to the draw.
The UEFA Futsal Cup semi-final draw has pitted holders Interviú Madrid with Azerbaijan's Araz Naxçivan and hosts SL Benfica against Luparense C/5 of Italy. UEFA.com round up the reaction from the four clubs to the ties played on 23 April, two days before the final at the Pavilhão Atlântico in Lisbon.
Luis Amado, Interviú goalkeeper
The draw could be seen as very positive for us on paper as Araz Naxçivan are the least well known of the semi-finalists. However, we won't be taking anything for granted because they will be extremely motivated going into the competition. It's true that the draw has set up a possible final encounter with [Benfica] but I have to insist that things are not as easy to predict as some people may be thinking. Benfica are coming up against the Italian champions Luparense, a team with quality and a lot of fight and one that eliminated ElPozo Murcia from the competition. In Europe, the tag of favourites counts for very little and the most important thing is to go into each game treating it is a final.
Rajab Farajzadeh, Araz striker
We have met opponents from Spain just once, and that was at international level. So, we don't know Interviú Madrid very well. But of course, I can say that this team are one of the strongest in Europe. They have several Brazilians, who are in their national team. They have strong domestic players as well. But there are no weak opponents at this level, so there is no difference against who you play. I understand that we are underdogs, but in qualifying for the finals we already have destroyed many expectations and stereotypes.

printer friendly version
Viewed: 2069